115 North Wright Bros. Dr.,
Salt Lake City, UT 84116-2838
United States
CATEGORIES & HEADINGSdetails >>
Motion Control (a division of Fillauer) is one of the most advanced development and manufacturing companies in the prosthetics industry. For over three decades, Motion Control has continually developed cutting-edge improvements in electronics, and innovative design for function, natural appearance, and comfort.

The Utah Arm 3+ is a fourth-generation myoelectric elbow, and along with the MC Hand, MC Electric Terminal Device (ETD), the new ETD2, Wrist Rotator, and highly-functional Flexion and Multi-Flex wrists, forms a rugged and versatile upper-limb prosthesis. The Utah Arm 3, 3+ and Utah Hybrid Arm are compatible with almost all other manufacturer's terminal devices, including multi-articulating hands, which are easily interchangeable with the MC Hand and ETD. Motion Control is now the exclusive U.S. distributor for the rugged TASKA® multi-articulating hand.

For lower limb wearers, an innovative hydraulic foot/ankle system, Motion Control's Motionfoot MX, offers the only hydraulic foot/ankle system with a near-normal range of ankle motion (50 degrees), coupled with the energy return of a carbon graphite sole plate element.

Motion Control is headquartered in Salt Lake City, Utah, with worldwide sales, but mainly in the United States, Canada and Europe. Motion Control follows FDA and ISO quality control standards.


Product Showcase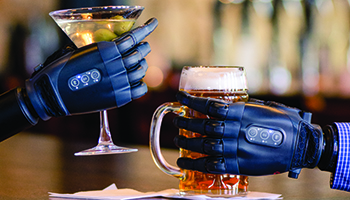 Motion Control is the exclusive U.S. distributor of the Taska hand. With flexible fingers, breakaway knuckles, motorized thumb rotation, integrated wrist flexion and grip cycle buttons, the Taska hand takes ruggedness to a whole new level in a multi-articulating hand.

Knuckles break away under large loads to prevent damage and are user resettable. The flexible fingers can laterally spread to allow the hand to grip a wide variety of objects firmly. Simple touch and go, easy-to-use grip cycle buttons provide easy access to grips.

Available in two sizes from Motion Control. read more